Age can be shown many ways. Stories, bodies, and legacies are my favourite. My grandfather lived life as a farmer, a teacher, a councilman, and a musician. All these identities have helped form who he is and what legacy he leaves for his children and grandchildren. For me, his musicianship is aspiring. Despite all the practice I may have, he will always have more to show me. I took these photos with my phone using the living space of my grandparent's home as the background. Behind me, and behind the camera, was my grandmother watching my screen and helping with closing blinds and giving creative advice. All while taking these photos, my grandfather was telling the stories of other photos that we were combing through (and my grandmother correcting him when he got the facts wrong). These stories are the reason why I chose my grandfather for my essay, as it will serve as a way to collect and record his legacy.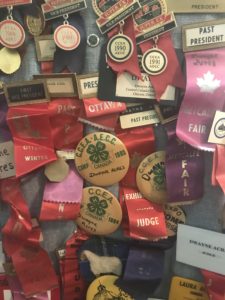 A man of many ribbons. My grandfather has collected over the years many ribbons, buttons, and badges that he has received in his many years volunteering locally and internationally in the field of agriculture. In the photo, you can see objects representing the many hours he put in as judge, president, and board member to organizations such as the Ottawa Super Ex, various fair boards, the Ottawa Winter fair and many other agriculture organizations. Despite these numerous honors, this does not fully capture him as I know him.
It's a family business. Here is my grandfather holding a photo of himself and his son playing music together. For many years, he and his family (5 children) made up the Acres Family Singers, who, besides owning and operating a farm, travelled around the Ottawa Valley and some of the United States singing at fairs and other events. These musical exploits are not represented on the wall of ribbons, but they are just as important to the man I know today.
Pictured in this photo is my Grandfather holding his guitar that he still performs with every second Wednesday. This guitar was also the first guitar that I played on stage (that was amplified) with my family, who have continued the tradition of a family band to this day. I can thank my grandfather as one of the reasons why I play guitar today, and for this special part of his legacy that I'm privileged to have.